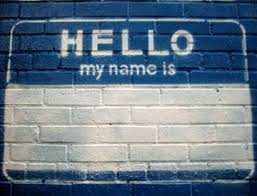 How do you feel when someone calls you by the wrong name?
Probably not very happy! We all want to be called by our correct name. Persons with dementia have a name most familiar to them. This is their preferred name, and it's what they want to hear. Knowing and using their preferred name is a key building block of the Best Friends™ Approach and a first step in developing a relationship with the person.
Preferred is the key word here. A person's name may be "Lawrence" but if he has been called "Junior" since he was a little boy he may not respond at all to "Lawrence." When Mary Frances, a participant at the Best Friends Day Center, heard the word kitty one day, she waved her hand and said "Here I am." Though her granddaughter did not know of her nickname, we were sure that she was called Kitty as a child. She beamed each time she heard her familiar name.
A preferred name can be an identifying moment. It says "You have not been forgotten." If you have ever waited and waited for someone—growing more anxious with each passing moment, more certain that you have been forgotten—you know how relieved you feel when you finally hear your name. Persons with dementia can often feel forgotten. Hearing their preferred name is a marker, an identifying moment that says, "All is well."
A preferred name can reassure a person in difficult moments. A man fell in his assisted living memory neighborhood one day and needed medical attention. When the ambulance arrived, he was frightened and in pain. The EMT noted that the staff addressed him as "Bill." Using his name throughout his trip to the hospital calmed him and made everything better.
A preferred name can enhance conversation. Taking about a person's preferred name can be lots of fun. It may be a nickname of long standing, a title such as Professor or Colonel, or a name with quite a story. Henrieta Frazier enjoyed sharing the story about her name. "My father died before I was born. My mother named me Henrieta for my father. His name was Henry." When Henrieta could no longer tell her story we could talk about her name and then she could remember.
Tips for using the preferred name effectively
Time spent in researching a person's preferred name will pay big dividends. Here are some ways to work someone's name into many interactions. (You can find many more in our book, The Best Friends™ Approach to Dementia Care.)
Make sure the preferred name is known and used by everyone in the community: the gardener, the door person, the administrator, etc.
Know how to spell and pronounce the name correctly.
Use the name throughout the day to introduce a person, at exercise time and game time and in conversation.
Use lettered tiles to spell a name. Line them up in a row and together, think of a word describing the person, beginning with each letter.
A person may enjoy signing his or her name. Judge Auxier, another Best Friends Day Center participant, signed his name "Senator". We checked with his wife, not knowing he had ever been a senator. She said he had never been but always wanted to be. That was good enough for us. He loved being called "Senator".
A person's name is probably the last word recognized at the close of life, said Dr. William Markesbery, a noted neurologist who directed the Sanders-Brown Center on Aging. Sometimes the simplest gift is the most precious and the most enduring.