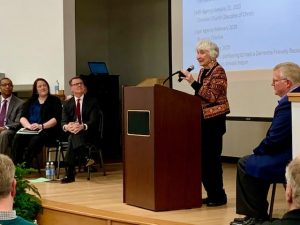 I came home from the 2016 Alzheimer's Disease International Conference in Budapest, Hungary, really "fired up" about dementia-friendly communities. For over 30 years, the Best Friends™ Approach had spread the philosophy of being together with persons with dementia. We've impacted the care approaches of family and professional care partners, but what about our wider community? I started making plans for Lexington to become a dementia-friendly community.
Today a hard-working and dedicated committee, led by April Stauffer, Community Outreach Coordinator for the Greater Kentucky-Southern Indiana Alzheimer's Association, and including members from health care, education, business, government and faith communities, is determined to make a difference in how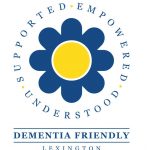 we relate to persons with dementia. Dementia-Friendly Lexington is now a part of Dementia-Friendly America, which has been a big help in programming for our big project. And now we have a website and a logo!
I can't say enough about the dedication of this committee. They are determined to change the history of dementia care so a person can feel supported, empowered and understood when out and about in the community. It is a dream coming true for me and I am grateful.
Are you ready to start a Dementia-Friendly initiative in your community? My experience in Lexington may help you.
1. It takes only one person with a dream to make life easier for persons with dementia to feel more a part of the community. In other words…you.
2. Invite persons you know who have the same dedication to meet together, including a person with dementia. In Lexington, we organized a small committee of staff and volunteers from the Best Friends Day Center to talk about how we could spread the word to the larger community.
3. Start thinking about a plan. Be patient. Take your time.
4. Contact Dementia-Friendly America as soon as possible to study the guidelines for becoming a member.
5. Start adding persons who represent all segments of the community. We soon found that the project was too big for us and began adding members from health care, education, government, business and faith communities.
6. Plan a 'kick off' meeting and invite everyone! Our January 2020 kickoff (shown in the photo above) drew 200+ persons from all walks of life, including caregivers and persons with dementia. We asked them to list the greatest needs in the community. Their top 3 included training for first responders, restaurants and faith communities, where they felt more people needed to understood dementia. The committee has taken their answers very seriously.
7. Begin designing training for various community segments. In Lexington, our training may just start by talking about simple things. Restaurants, for example. Instead of a menu, could they provide a simplified list of dishes to a person with dementia? Many businesses have asked us about 10 simple things they can do to make a person with dementia feel more comfortable while shopping, getting their hair done, going to the bank, etc.
8. Keep moving the work forward by holding regular meetings of the committee and subgroups. During the pandemic, our committee meets virtually with subcommittees working on training and marketing. The training subcommittee will draw from many sources to make the training unique to Dementia-Friendly Lexington. The marketing committee developed a logo and several short videos from community leaders expressing the need for our community to be more dementia friendly. Our goal is to have organizations certified as dementia friendly, with our logo to post.
Developing a dementia-friendly community is an ongoing process but rewarding for everyone involved. Best wishes for success in your community in 2021!